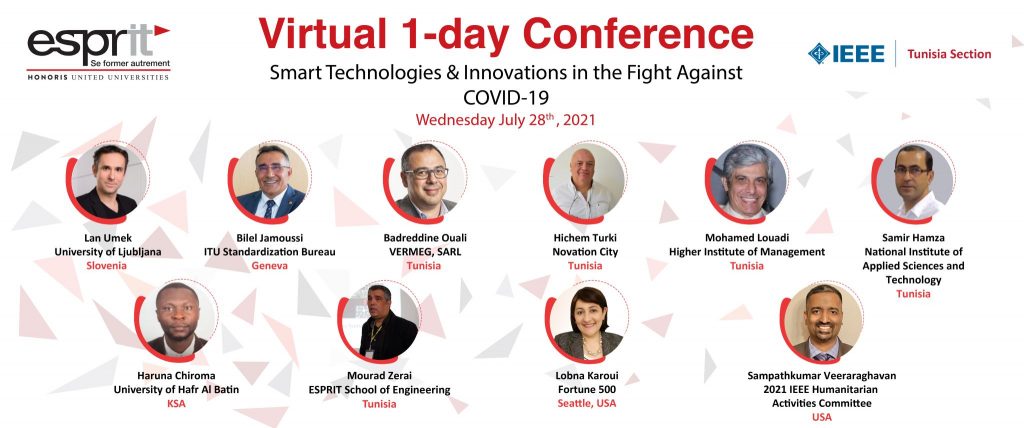 Background
Despite ongoing vaccination rollouts, strict travel restrictions and other lockdown measures, the COVID-19 pandemic has evolved from a health crisis towards a world-wide, unprecedented, and most likely a long-lasting socio-economic crisis. Smart technologies and innovations, based for instance on AI, IoT, big data, robotics, drones, 5G, blockchain, nanotechnology, and 3D printing, can potentially play an important role in enhancing our preparedness in preventing, adapting to, and recovering from the COVID-19 pandemic.
Provide a discussion forum for local / international experts and interested parties to discuss and share their research findings, insights, ongoing projects, lessons-learned, and the challenges encountered when adopting smart innovative technologies in the ongoing fight against COVID-19.
Two main areas of potential discussions were identified:
Using smart technologies and innovations to enhance our readiness to cope with the COVID-19 pandemic (mainly through prevention and adaptation)
Using smart technologies to enhance our ability to cope with the challenges of post COVID-19 economic recovery by enabling innovative ways to support more resilient and sustainable social, economic, and educational activities.
The conference is organized by ESPRIT (member of Honoris United Universities), with the technical Co-Sponsorship of IEEE Tunisia Section.
The virtual 1-day conference will take place via WebEx web conferencing tool. All presentations will be video-recorded and archived in a dedicated ESPRIT-Tech YouTube Channel. The event will also be Streamed Live on Facebook.
Don't miss out on the opportunity to attend the virtual conference:
Smart Technologies & Innovations in the Fight Against COVID-19.
Scientific committee Co-Chairs
Conference Agenda & Presentations